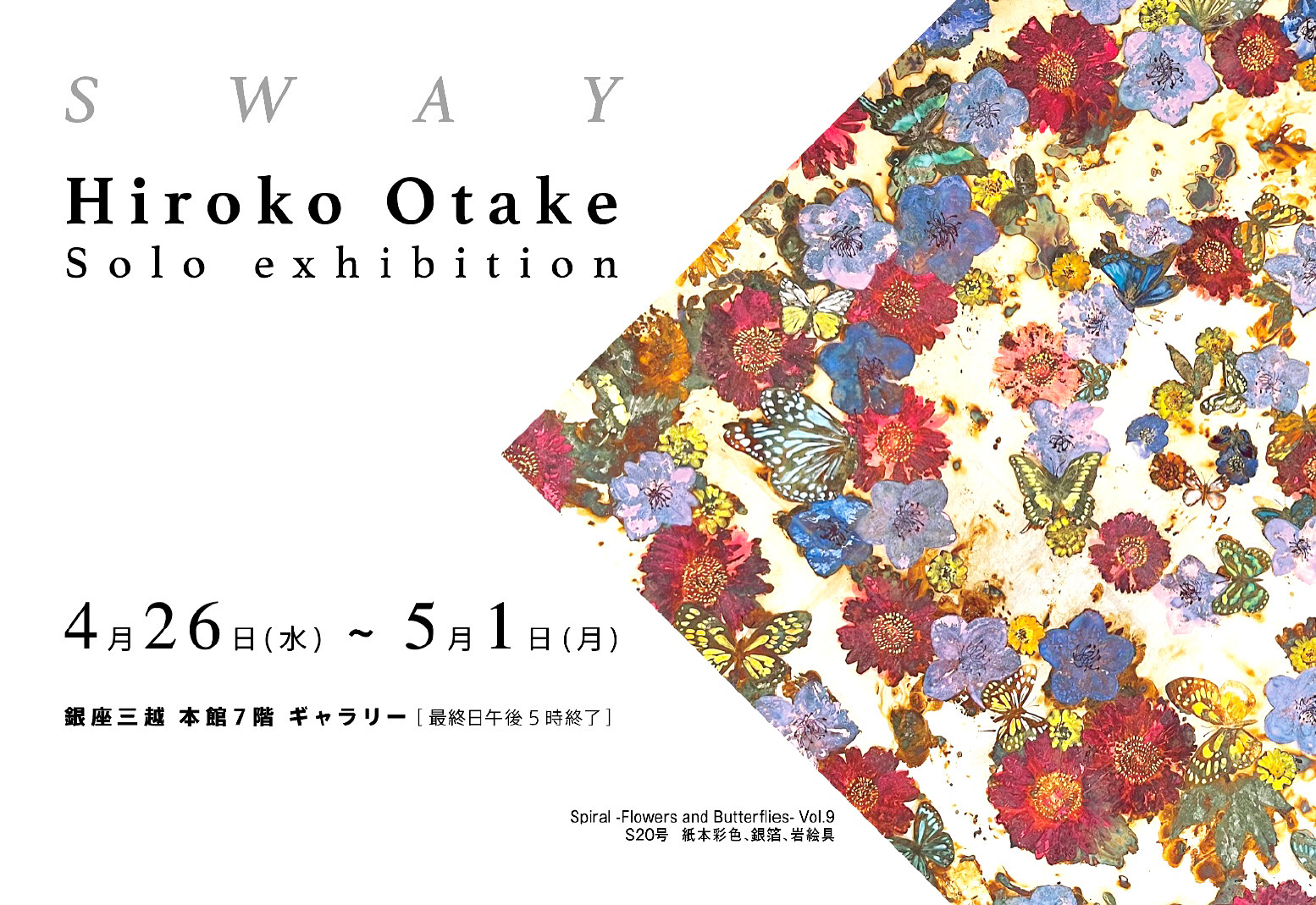 SWAY Hiroko Otake Solo exhibition
Date :

Wednesday, April 26, 2023 - Monday, May 1, 2023 ※The last day until 5:00
Place :

Ginza Mitsukoshi Main Building 7F gallery 4-chōme-6-16 Ginza, Chuo City, Tokyo
Ability writer, Hiroko Otake whom they play an active part in home and abroad mainly on Tokyo and Paris, New York widely, and even collaboration with various genres such as the field of fashion, package design image is known to.

Using traditional technique, material of Japanese painting, the world described in Otake's original new expression that featured the theme of "constancy that there is before changeable moment" attracts thing to see.

In this exhibition, we will display springlike New Item which is full of colors mainly on masterpiece which assumed butterfly or flower motif.

Please have a look at the elegant world letting you feel vanity and strength of life at this opportunity.




Hiroko Otake Hiroko Otake

[brief career history]

Tokyo art University picture department Japanese painting specialty is a graduate for 2,006 years
     Graduation production Teikyo University purchase

2008 Tokyo art University Graduate School art graduate course Japanese painting specialty completion

2009 19th Sato international culture Ikuei foundation scholarship student (Sato Museum)

2011 Tokyo art University Graduate School art graduate course doctoral course Japanese painting study domain completion
     The art study doctorate acquisition

Education research assistant Japanese painting (... '14) university's for 2,011 years

Winning 2014 Tokyo art University emerald prize

2015 Agency for Cultural Affairs rising artist overseas deployment system (United States New York - '16)

We donate work "Psyche" to Vatican City with the Pope visit to Japan in 2019

We develop new expression using foil and mineral colors, and art is working based on traditional technique of Japanese painting with study widely at home and abroad for many years now.
https://www.mistore.jp/store/ginza/shops/living/gallery/shopnews_list/shopnews076.html
BACK