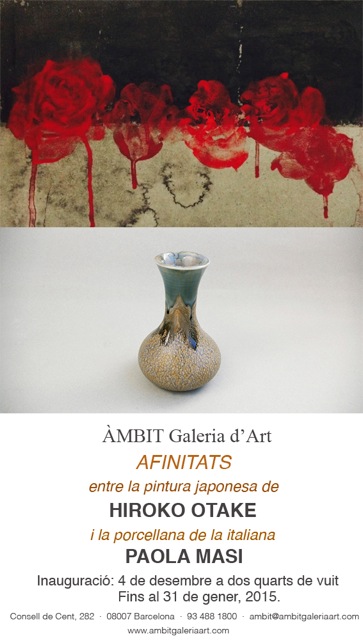 2014年12月4日ー2015年1月31日
Consell de Cent, 282 08007 Barcelona
AMBIT GALLERY http://ambitgaleriaart.com/ambit/index.php/en
AFINITATS "Hiroko Otake & Paola Masi"
From 4th. December, 2014 to 31th. January, 2015
Hiroko Otake (Tokyo, 1980) studied at the University of Art in Tokyo where she earned a doctorate in traditional Japanese painting. Paola Masi (Rome, 1970) delved into the art of ceramics in countries such as England, Italy, Mexico and France.
In 2011 Otake and Masi had a chance to meet in Spain during which they learned about the affinity of their works and found a common point on bridging the gap between East and West: the great respect that both of them have towards traditional materials and techniques.
Masi had the great privilege to access the essence of her work through the Korean and Japanese ceramics. Also, as a student of Sufi philosophy, the artist is inspired by the continuous search for beauty and harmony through its multiple forms: music, philosophy, poetry, and especially nature.
Otake uses ink, gold leaf, silver and copper mixed with mineral pigments on silk or Japanese paper. The artist uses the traditional Japanese style of painting as a means to express the universality of her work.
The exquisite pieces of these two artists share the same time, same place and a universal affinity. We invite you to enjoy this new proposal and if you need more information do not hesitate to get in touch with the gallery.
スペインのバルセロナで2015年1月末まで展示しています。
お近くにお立ち寄りの際は是非、ギャラリーまで足を運んで下さい。
I have a group exhibition at Ambit gallery Barcelona from 4th December to the end of January.
Please come and see our show!