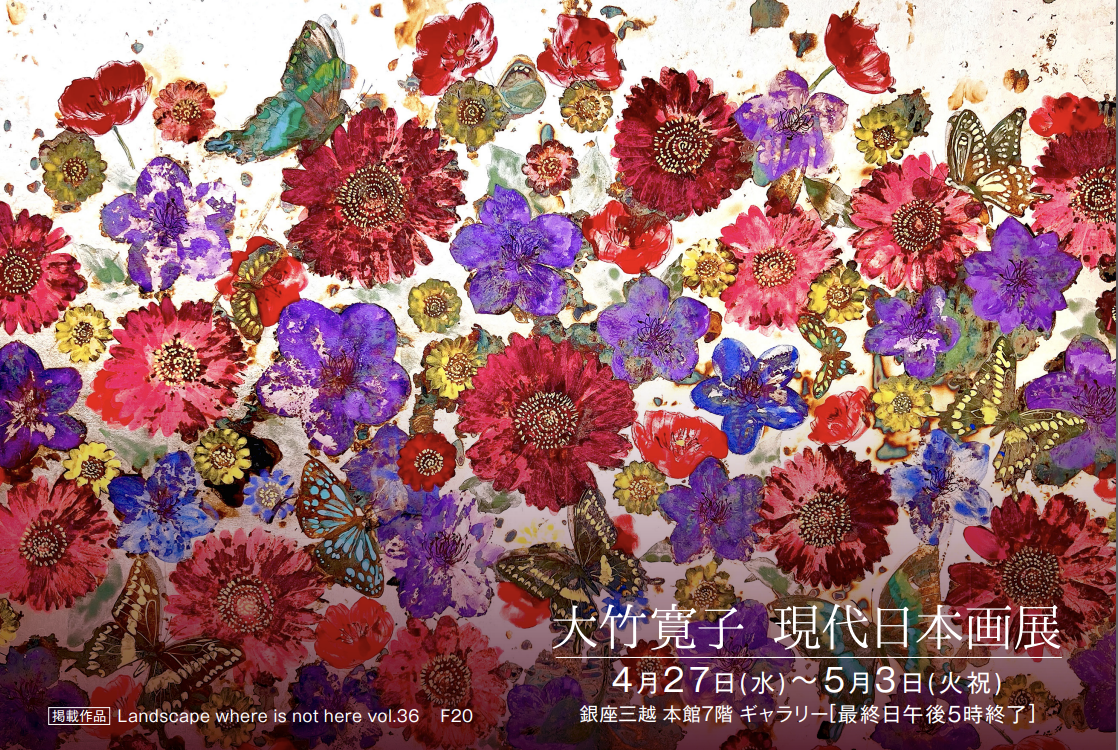 Hiroko Otake Contemporary Japanese painting exhibition
Date :

Wednesday, April 27, 2022 - May 3, 2022 (fire·Celebration) ※The last day until 5:00 p.m.
Place :

Ginza Mitsukoshi Main Building 7F gallery
Young person writer, Hiroko Otake whom they play an active part in home and abroad mainly on Tokyo and Paris, New York widely, and even hotel, collaboration with various genres including the field of fashion are known to.

Using traditional technique, material of Japanese painting, the world described in Otake's original new expression that featured the theme of "constancy that there is before changeable moment" attracts thing to see.

In this exhibition, we will display springlike New Item which is full of colors mainly on masterpiece which assumed butterfly or flower motif.

Please have a look at the elegant world letting you feel vanity and strength of life at this opportunity.



Hiroko Otake Hiroko Otake

Doctoral degree course in 2011 Tokyo art University picture department Japanese painting department completion, the art study doctorate acquisition.

2,015-2,016 years Agency for Cultural Affairs rising artist

It is stayed in New York by overseas deployment system. We develop new expression using foil and mineral colors and, based on traditional technique of Japanese painting with study, have been appreciated at home and abroad for many years.
https://www.mistore.jp/store/ginza/shops/living/gallery/shopnews_list/shopnews025.html
BACK