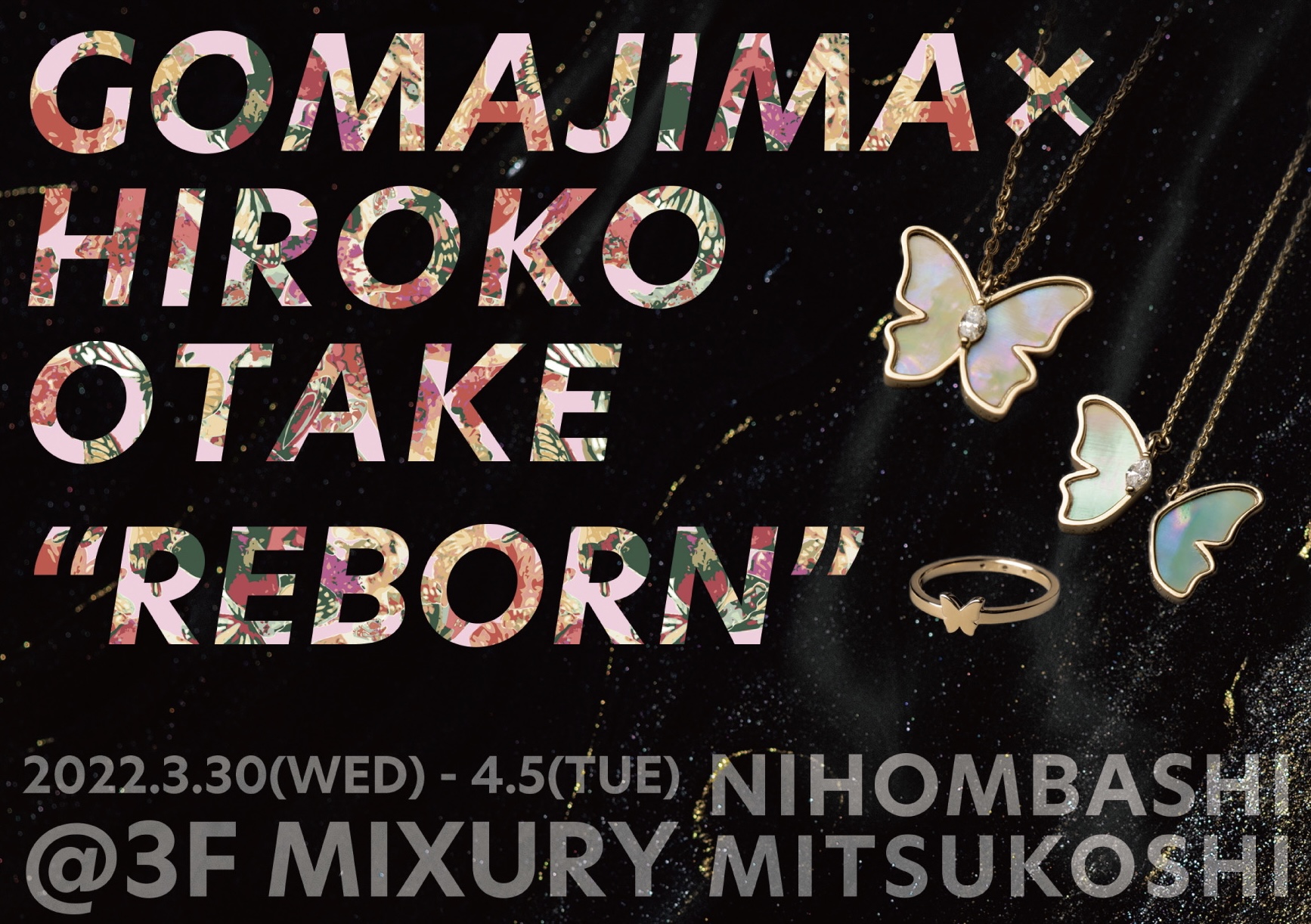 "REBORN" GOMAJIMA × HIROKO OTAKE
Date :

Wednesday, March 30, 2022 - Tuesday, April 5, 2022
Place :

Nihombashi Mitsukoshi Main Store Main Building 3F Ladies fashion (main building 3F), Mixury
"REBORN" GOMAJIMA X Hiroko Otake

We will announce RADEN JEWELRY and collaboration jewelry with contemporary Japanese painter, Hiroko Otake representing <GOMAJIMA>.

Butterfly which was main motif of Hiroko Otake fused with mother-of-pearl and sublimated to jewelry which stayed, and seemed to fly away from life at any moment.

It is birth of jewelry appropriate for season to reach time of the new departure and fresh start.

<GOMAJIMA>

"Jewelry which is inherited carefully from mother to daughter" in concept,

<GOMAJIMA> which is colorful, and sends jewelry with elation for many women.
We will suggest positive jewelry appropriate for clear and mild spring.

We do including mother-of-pearl jewelry representing <GOMAJIMA>,

In colorful jewelry, is new; begin and start time of fresh start energetically.

Hiroko Otake

2006 Tokyo art University picture department Japanese painting specialty graduation, Doctoral degree course in graduate school art graduate course Japanese painting study domain completion university's for 2,011 years, the art study doctorate acquisition.

Winning 2014 Tokyo art University emerald prize. It is stayed in New York for 2,015-2,016 years by Agency for Cultural Affairs rising artist overseas deployment system.

We donate work "Psyche" to Vatican City with the Pope visit to Japan in 2019.

We develop new expression using foil and mineral colors and, based on traditional technique of Japanese painting with study, have been appreciated at home and abroad for many years.
https://www.mistore.jp/.../shopnews_list/shopnews00128.html
Reservation : 03-3241-3311
BACK